Lockers, Bus Tickets & Campus Meal Cards
Locker Rentals
Lockers are available to rent throughout the semester at the bookstore.
Lorain County Transit Bus Tickets
Commodore Books and More sells Student Rate bus tickets for $9 packets, 10 trip tickets per packet. Students are allowed to buy 4 Student Rate ticket packets a month. You must have a student ID and present it when purchasing the student rate bus tickets.
Learn more about Lorain County Transit
LCCC Campus Dining Meal Card
You can purchase and reload the Campus Dining Meal Card at Commodore Books & More using your Financial Aid.
The Campus Dining Meal Card can also be used and purchased/reloaded (with cash or credit card) at the following locations:
The College Center Marketplace

The College Center Starbucks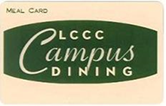 (Campus Dining is not responsible for lost, stolen or damaged card or any unauthorized card use.)